UVA Alumni Tasting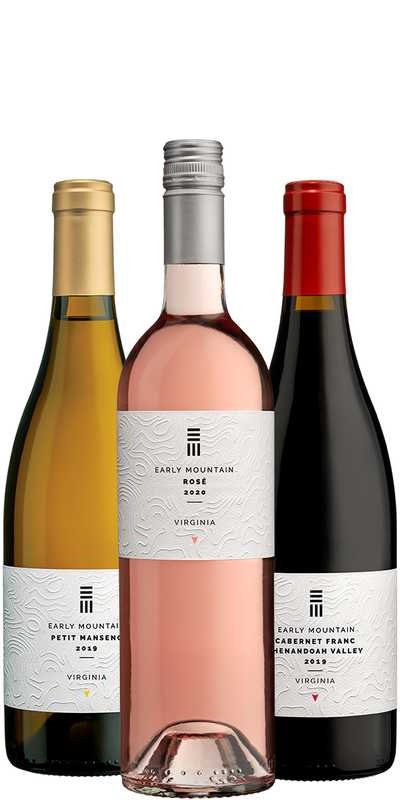 Tasting Trio for the University of Virginia Alumni Association Tastings on June 9th & 10th.
Join the Early Mountain winemaking team for a fun and interactive wine tasting and learn more about the exciting developments in the wine country surrounding Charlottesville. Find out why Early Mountain has achieved national recognition for its wines, including its nomination as American Winery of the Year in 2019 (Wine Enthusiast) and Hot Wine Brand of 2020 (Wine Business Monthly).
We'll taste three wines together, or join in with your own preferred beverage of choice. Please order by 5/24 for West Coast delivery and 5/31 for East Coast delivery prior to the tasting. Shipping is complimentary.
Tasting Trio includes:
Rosé 2020: Our most popular wine - dry, versatile, zesty, and fresh!
Madison County Chardonnay 2019: Barrel fermented and aged; 25% new French oak. Citrus, red apple, guava, and peach fruit. Rich texture with impeccable balance.
Madison County Cabernet Franc 2019: Blend hillside and mountainside vineyards in the heart of Madison County. Aromatic, red-fruited, and bold.