Early Mountain Classics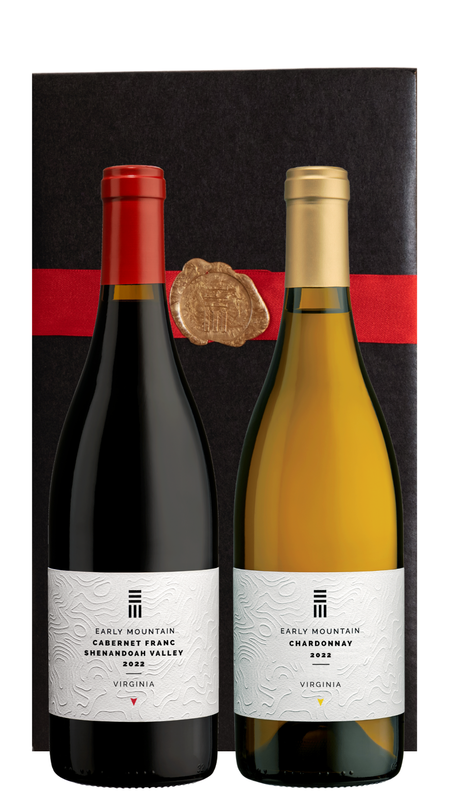 Early Mountain Classics
The Early Mountain Classics pack offers a pairing of two of our most popular wines, beautifully wrapped in our holiday gift boxing, wrapped in a satin ribbon and sealed with an Early Mountain wax seal.
Shenandoah Valley Cabernet Franc: While the flavors are definitely Cabernet Franc, this texture is reminiscent of Pinot Noir, and you can see why we believe this grape does best as a varietal wine when it is unencumbered by new oak and long aging. The result is a wine that is both graceful in stature and compelling in detail, walking a fine line between subtlety and complexity. The aromas are a mingling of red and black fruits with rosemary, forest mushrooms and black pepper. The fruit/savory play continues on the palate, which is rich with persistent, ripe tannins and subtle acidity. This is a wine that demands that you both engage its aromatic offering and pour yourself another glass.
2021 Chardonnay: This vintage displays the freshness and versatility of Chardonnay. This wine is generous in its fresh and vibrant aromatics, displaying Meyer lemon, green apple and clover, leading to dense stone fruits of ripe apricot and white peach, rounded out by a gentle flintiness and a hint of bergamot. The savory character of the wine is highlighted by herbal notes of thyme and bay, and allspice, influenced by barrel and lees aging. This wine presents medium bodied with lively acidity and a gentle pithiness on the finish.