Early Mountain Vineyard Tour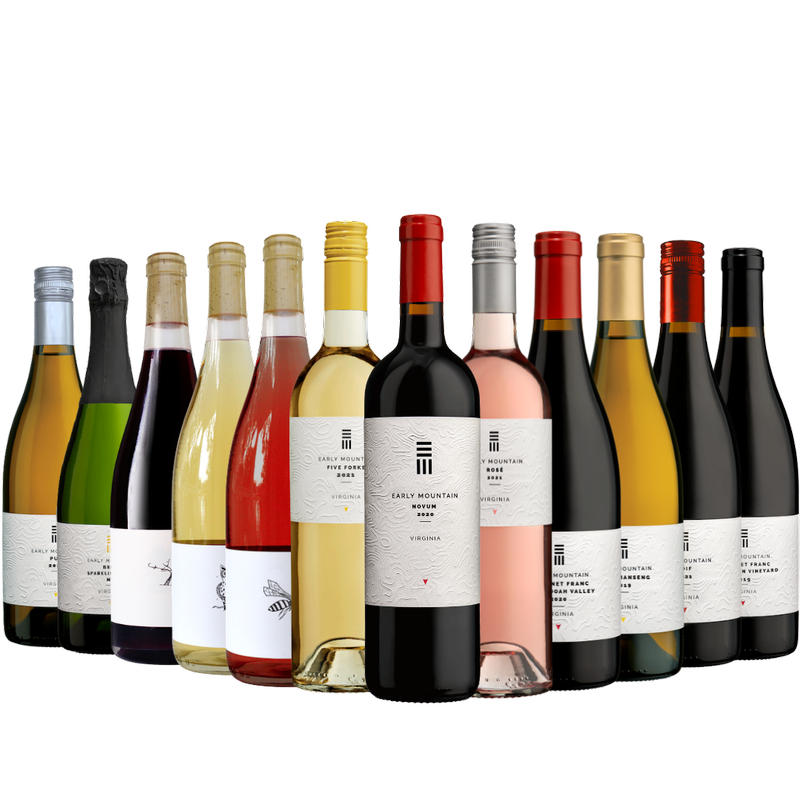 Early Mountain Vineyard Tour
We invite you to take a tour through our vineyard with a full case of 12 distinctive bottles. Every case will include tasting notes and serving recommendations for each wine included to make sure you enjoy every bottle to its full potential.
The wines featured in this case are:
Brut Sparkling NV - A delicious sparkling wine
2022 Rosé - A fresh and tangy rosé
Young Wine Pink - Fresh, juicy, and effervescent
Young Wine White - Citrusy and fresh Vidal Blanc
2021 Five Forks - Petit Manseng & Sauvignon Blanc blend. Dry and aromatic
2022 Pur - Fresh, crisp, and friendly - unoaked pure white
2021 Petit Manseng - A True Virginian classic
2021 Foothills - Fresh, bright and layered dry red blend.
2022 Soif - A thirst-quenching, chillable red
2021 Shenandoah Valley Cabernet Franc - A graceful and compelling Cabernet Franc.
2021 Madison County Cabernet Franc - A ripe and rich Cabernet Franc
2020 Novum - A textured, lively, and dynamic red blend
No substitutions available, case is sold as is. Free shipping. Only Club Discount can apply.