Early Mountain Vineyard Tour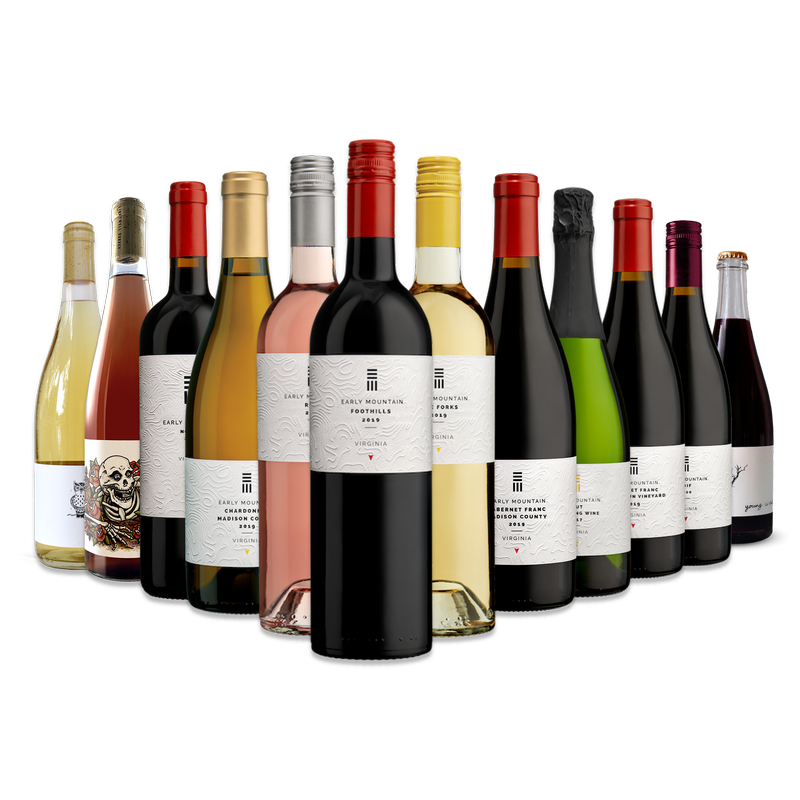 For the first time in our shop, we invite you to take a tour through our vineyard with a full case of 12 distinctive bottles. Every case will include tasting notes and serving recommendations for each wine included to make sure you enjoy every bottle to its full potential.
The wines featured in this case are:
2020 Foothills - A snappy and complex red blend
2019 Quaker Run Cabernet Franc - Very limited - directly from our Estate mountainside vineyard.
2020 Soif - Fresh, chillable red blend - juicy and fun!
2019 Novum - Cabernet Franc blend, Tannat power.
2019 Madison County Cabernet Franc - Aromatic and fresh.
2020 Five Forks - Petit Manseng & Sauvignon Blanc blend. Dry & aromatic.
2020 Madison County Chardonnay - Classic Chardonnay with finesse and freshness.
2020 Rosé - Fresh, energetic and pure Dry Rosé.
Lightwell Survey Strange Hybrid Moments - Ben Jordan's side project, a delicious and unique rosé.
Young Wine White - Citrusy and fresh Vidal Blanc. Unfiltered. Contains naturally produced deposits that dissipates in the glass.
Young Wine Red - Juicy and fruit-driven Chambourcin.
Brut Sparkling Wine NV - The perfect bubbles both for celebrating and relaxing!
No substitutions available, case is sold as is. Free shipping. Discounts not applicable.