Going for the Gold Trio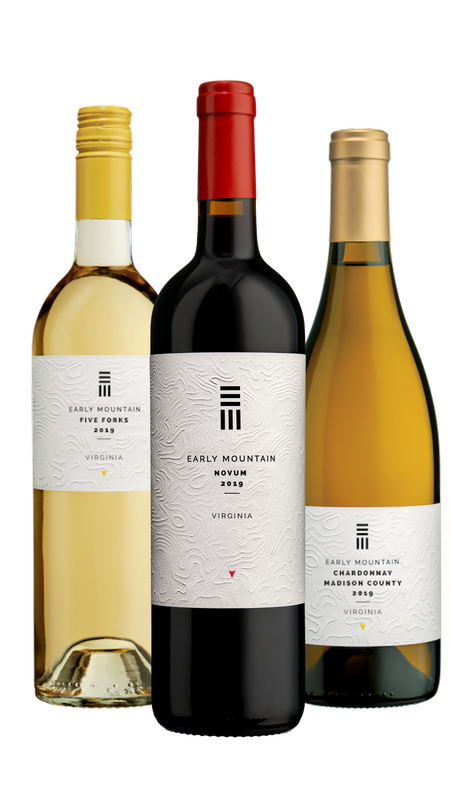 The perfect pairing for the 2021 Olympic Opening Ceremonies, we've put together some of our all-time greats! Each of these wines' predecessor have won gold at the The Virginia Governor's Cup.

2020 Five Forks: With Petit Manseng in the lead, we feel the density of aroma and texture that are inherent to this grape. The aromatics flow from pear to peach to mango and are repeated as flavors in the palate, where the Sauvignon Blanc steps in with snappy green flavors, both herbs and piquant orchard fruit, and adds acid precision and a mineral finish. 2020 finds a way to embrace the textural nature of Petit Manseng while maintaining freshness of the Sauvignon blanc.
2019 Novum: On the nose, we find dark cherry and blackberry, fully ripe and warmed by the sun, along with subtle rosemary and wood spice framed by the leafy, forest floor of the Cab Franc. The palate is deep, textured and intense, echoing the fruits of the aromas and finishing with thyme and cocoa. The tannins are persistent yet ripe, with Tannat providing the structural foundation, and the wine lingers on the palate for a long time.

2019 Madison County Chardonnay: The 2019 vintage provided optimal ripening conditions for Chardonnay; because of this we had the luxury of separating our harvest picks, earlier to embrace acidity and those later to influence texture. This wine presents fresh and vibrant aromatics, displaying bright citrus and apple, with stone fruits, dried mango and guava following. The savoury character of the wine is highlighted by herbal and spice notes of bayleaf, allspice, brought out by lees aging. This wine presents medium-bodied with lively acidity on the finish.