Harvest Bounty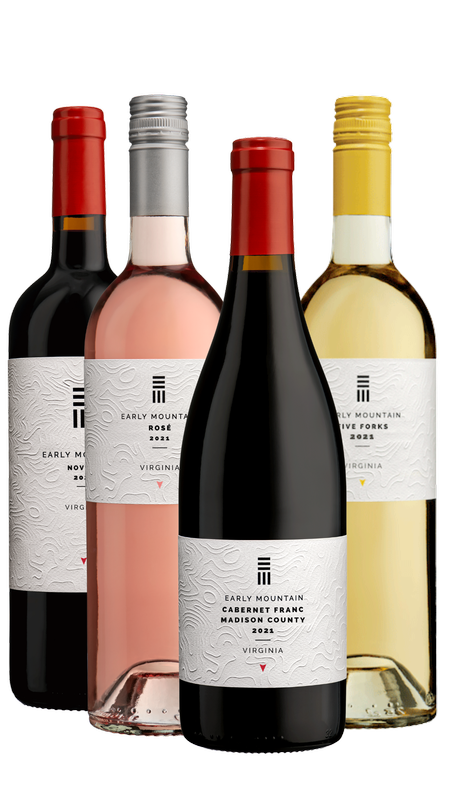 Harvest Bounty
Holiday dinners aren't complete without the perfect wines, and fantastic friends and family to share them with. We asked our team what their top picks were to serve at their tables:
Head Winemaker Maya Hood White: 2021 Five Forks -
Head Chef Tim Moore: 2021 Madison County Cabernet Franc - During the holiday season, our family surrounds an overflowing table of roasted winter vegetables and mouth-watering savory meats. One of my favorites is the cherry and bourbon glazed ham that seems to stare me down until the green light is given; indulging in one of the most anticipated, special meals of the year. I love having a good cabernet franc at the helm to pair with all the wonderful food. The 2021 Madison County Cabernet Franc, with its endless aromatic complexity, helps to remind me of this beautiful season. The pallet notes of stone fruit, bright red berries and even black tea, pair charmingly with the thoughtful holiday spread.
VP of Strategy and Marketing Aileen Sevier: 2021 Rosé - For broad versatility, rosé is pretty unmatched on the holiday table. Whether satisfying the widest range of drinkers or enlivening dishes such as creamy potatoes, rich stuffings or simple roast turkey, rosé is a no-brainer. And with its lower alcohol content, rosé makes a light companion for the cook keeping things going throughout a leisurely day.
Assistant Winemaker Jeremy Mersch: 2020 Novum - 2020 Novum is a wine I would choose to feature at my Thanksgiving table. I personally love a wine that showcases "red" fruit aromas and flavors (cherry, cranberry, etc) but also offers complexity, and the 2020 Novum does just that. The earthy aromatics of the cabernet franc, the body and acid provided by the Tannat, and the light touch of new oak makes this wine a well-rounded and complex crowd pleaser.