The Pasta Pack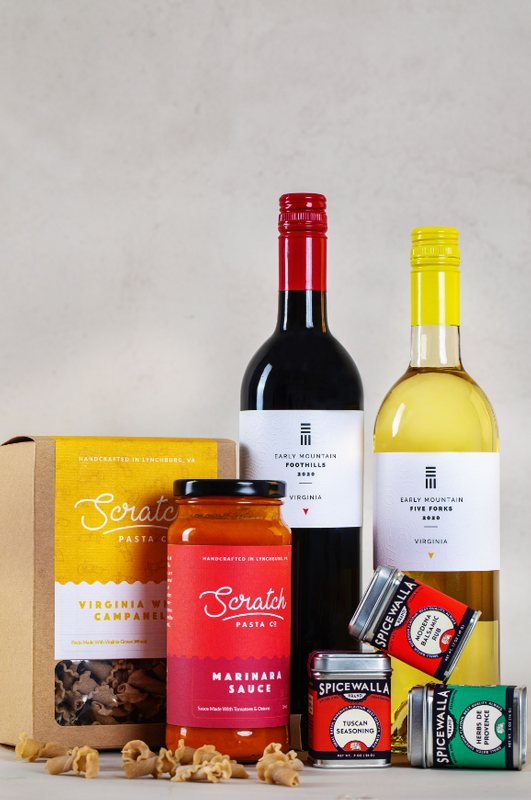 The Pasta Pack
Give the gift of a night off - we have dinner covered! The Pasta Pack features two bottles of Tasting Room favorites, and some delicious pasta and sauce from local pasta maker Scratch Pasta.
The Pasta Pack comes packed in one of our beautiful black boxes, wrapped with a satin ribbon and sealed with a hand-poured Early Mountain wax seal.
2021 Foothills Red Blend by Early Mountain - The aromas of the 2021 Foothills are snappy and alive, with red and black fruits and subtle dried herbs. It is medium bodied with soft tannins, bringing more to the table than would be expected of its price tag. The flavors are layered and many, allowing for more contemplative complexity than we are used to from an "everyday" wine.
2021 Five Forks White Blend by Early Mountain - There is an additional layer of flavor and texture from the malo that keeps this from being a "fresh fruit bomb", and you might find yourself in a more contemplative posture than you would have expected drinking a wine in a clear bottle and screwcap. This wine over-delivers in every vintage, but especially in 2021.
The Mediterranean Collection by Spicewalla - A perfect collection for the aspiring chef and the seasoned (no pun intended) kitchen professional. We use the freshest ingredients to make this collection of classics. Great for a special evening of cuisine by way of Julia Child, or a casual picnic with pasta salad.
Virginia Wheat Campanelli by Scratch Pasta - Made with a mix of Semolina Flour and Virginia-Grown Wheat Flour, this whole wheat pasta is a lighter alternative to traditional whole wheat pastas. Balanced and delicately flavored, this pasta is perfect in just about anything, but our go-to move is mixing it with some delicious pesto. Awarded runner-up for the food category in the "2019 Garden & Gun Made in the South Awards"
Marinara Sauce by Scratch Pasta - This marinara sauce is delicious, pure and simple. Made with imported Italian tomatoes, onions, and butter, slow-simmered together to create a silky-smooth flavor— Scratch lets the flavor of the tomatoes shine.