The Quaker Run Trio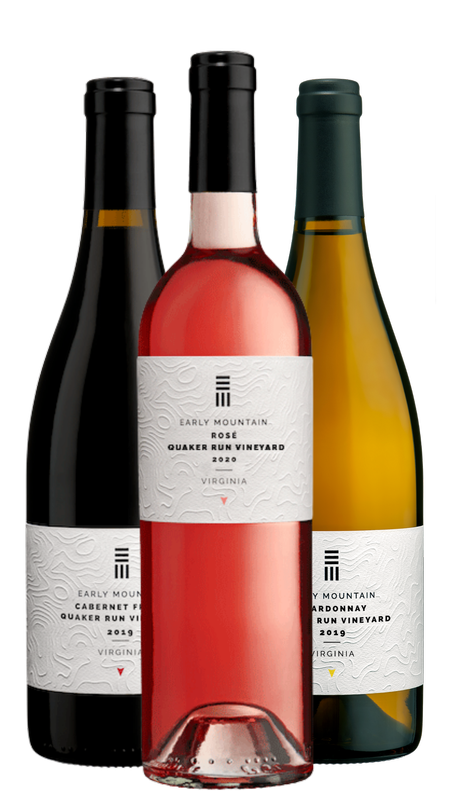 Featuring our best offerings from the beautiful vines at Quaker Run Vineyards, we are happy to share this fantastic trio!
2019 Quaker Run Cabernet Franc: We like to say our approach to Cabernet Franc is more Burgundy than Bordeaux, meaning we look for silky rather than tannic structure and favor the aromatic potential of the grape over the flavor of the barrel. We should also point out that much of the Franc that we work with lends itself to this approach. The result is a wine that leads with fruit, framing classical herbal notes; a wine that has richness without feeling heavy. Since we work with reduction in Cab Franc, the fruit and herbs are highlighted by savory, umami notes of mushroom and damp, fertile soil.
2020 Quaker Run Rosé: First available to our Club members, this is "fancy" rosé was sourced from some of the oldest vines we farm at Quaker Run with fruit that is generally used to make Novum, Eluvium, and even Rise. The aromas take you directly to the deeper, redder flavors of ripe strawberries and black cherries. The wine is round, mouth-feeling and almost seeming to dance a bit into red wine territory, before admitting it is, in fact, rosé.
2019 Quaker Run Chardonnay: This wine is marked by its long fermentation and extended lees contact with the sort of yeast/bread character you might expect from Champagne and the roundness and texture that you might expect from a full malo Chardonnay, though the wine retains acidity even with full ripeness, especially in a vintage like 2019, where ripeness and acidity were hallmarks of the white wines. This wine has density and extract while remaining nimble and detailed, something we think is specific to this small block of Chardonnay planted on the side of a mountain in 1999.