Pinnacle Pack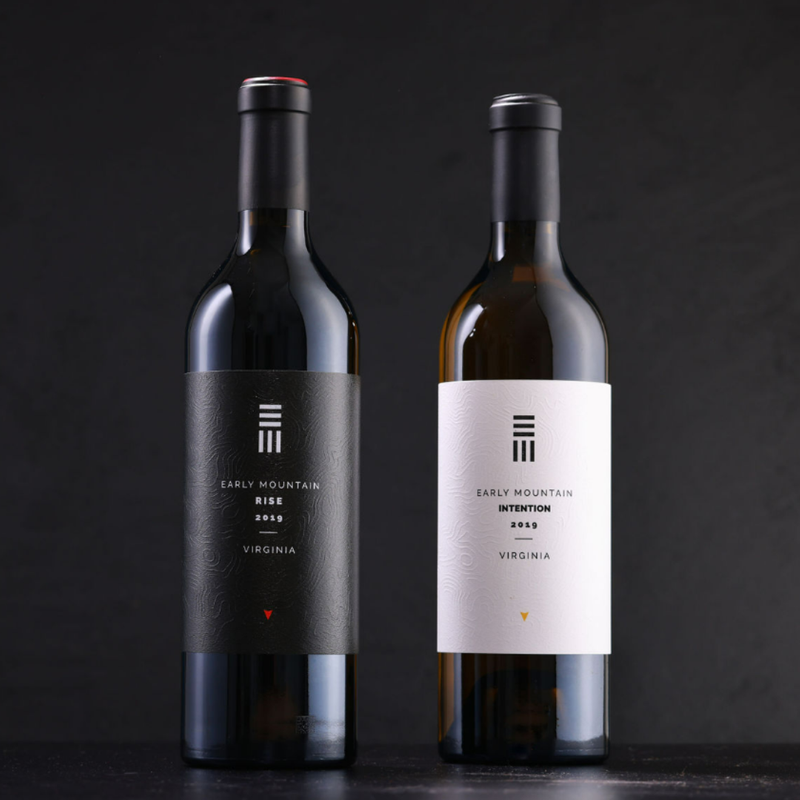 Pinnacle Pack
Rise 2019: 57% Merlot, 18% Cabernet Franc, 14% Petit Verdot, 11% Tannat
Rise is our most powerful wine, and also one of the most beautiful, which may seem a paradox, but it is the overarching philosophy we bring to building it — by balancing power, concentration, and texture with aromatic complexity, detail, and flavors that range from deep and persistent to subtle and suggestive, echoing at the edge of the palate. On the nose, the fruits are deep and dark with Damson plum and wild blackberries accented by mint, cedar and wood spice. On the palate the flavors echo the aromas; structured and layered with ample and persistent tannin.
Intention 2019: 62% Petit Manseng, 35% Sauvignon Blanc, 3% Chardonnay
In a concentrated, high-acid vintage like 2019, Petit Manseng brings power and taut structure, so this wine wants a decanter to help reveal the richness at the core of the wine. The aromatics highlight warm, brioche character of the extended lees contact, with grilled tropical fruits and savoury herbs, and the preserved citrus and white flower attributes of the Sauvignon Blanc add great dynamics to the nose, resulting in an ever-evolving wine. The palate is powerful yet precise, with rich, ripe fruit, along with a savory, almost salty and textured middle that is lengthened by pronounced acidity that carries through the finish.