Relax Pack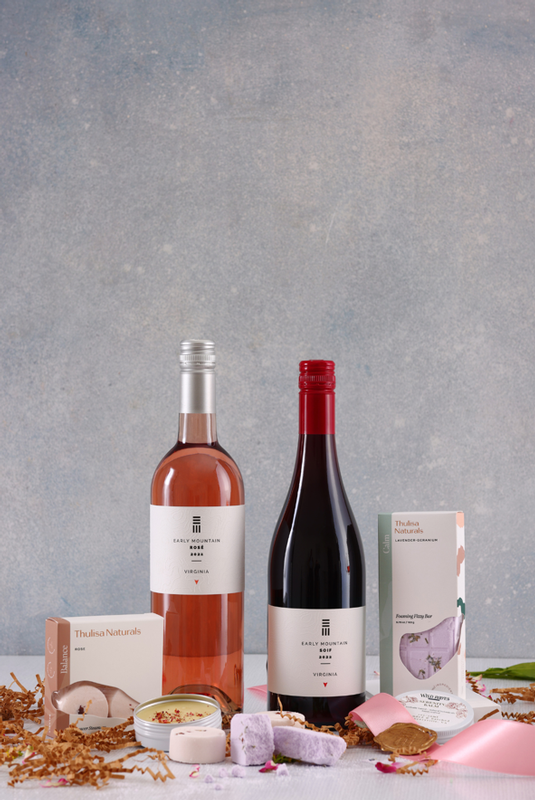 Relax Pack
The perfect gift for the person in your life who needs a night in! We are excited to share the Early Mountain Relax Pack - a curated wine set featuring our favorite springtime bottles and products from some of Virginia's relaxation experts: Thulisa Naturals and Wild Roots Apothecary. Nothing says "relaxation" like a bubble bath and a chilled glass of wine!
This wine set comes packaged in one of our beautiful black boxes, wrapped in satin ribbon and sealed with a hand-poured Early Mountain wax seal.
Early Mountain Rosé - Strawberries, white peaches, and red grapefruit drive the aromas of this wine, which are echoed by the flavors. The wine is layered with flavor, but no single note demands the spotlight, instead they all operate in harmony, bringing a feeling of poise and completeness.
Early Mountain Soif - Merlot takes charge of Soif this year, making it a bit more about the fruit in front of the herbal components of the wine. The vintage brings a bit more density and color, but this is still juicy and a dancing joy of a wine.
Thulisa Lavender- Geranium Fizzy Bar - These bath bomb bars bubble, fizz, and foam. Infused with Thulisa's signature 'Calm' blend of essential oils and hydrating grape seed oil, you'll enjoy an unforgettable relaxing bath experience that relaxes and calms body, mind, and spirit. (Each box contains 1 bar with 12 pieces. We recommend 1-2 pieces per bath!)
Thulisa Rose Shower Steamer - Transform your shower into an aromatic spa experience by enjoying the relaxing, floral scent of our calming and grounding signature Rose shower steamers. Thulisa's rose oil blend has a warm, deeply floral, rich, and slightly spicy scent which makes for the perfect indulgence after a long day. (Each box contains 4 shower steamers. Each shower steamer tablet lasts approximately 2 showers.)
Wild Roots Rose Pulse Point Balm - Created for the perfect moment to interrupt the cascade of worry or create a beautiful scent to surround yourself in. Add it when you need a little pick me up or serenity. (Uses on pulse points before bed or when you need a calming breath.)