The Rose Trio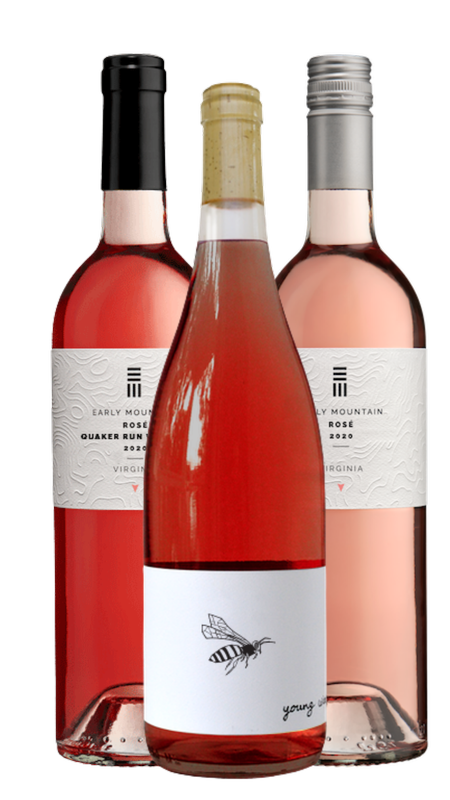 The Rose Trio
2020 Quaker Run Rosé: Available first to our Club Members, this is "fancy" rosé is sourced from some of the oldest vines we farm at Quaker Run with fruit that is generally used to make Novum, Eluvium, and even Rise. The aromas take you directly to the deeper, redder flavors of ripe strawberries and black cherries. The wine is round, mouth feeling and almost seeming to dance a bit into red wine territory, before admitting it is, in fact, rosé.
Young Wine Pink: This is our first pink young wine, and we take a different path to get where we're going. Working in that zone of red/white co-fermentation, we macerated whole berries of Chambourcin in direct pressed Vidal blanc. The end result is deeper in color with a bit of creaminess supporting the fruit punch fun that is this wine. This wine smells of raspberries and cream but also bops around all the other red fruits we imagine we smell in wine, all feeling very fresh. The texture is juicy and rounder than most "white wine" styled rosés, but a bit of effervescence leftover from the fermentation keeps it lifted and clean.
2020 Rosé: The pale, salmon color primes us for the strawberries, white peaches, red grapefruit and herbal aromas of this wine. The acidity matches the texture and brings freshness to the fruit, and the wine lingers with a pleasant citrus pith character. It is light on its feet, but with a delicate intensity that lingers. The wine is subtly layered with flavor, but it doesn't demand the spotlight, secure in its ability to get you to take another sip.