UVA Tasting Pack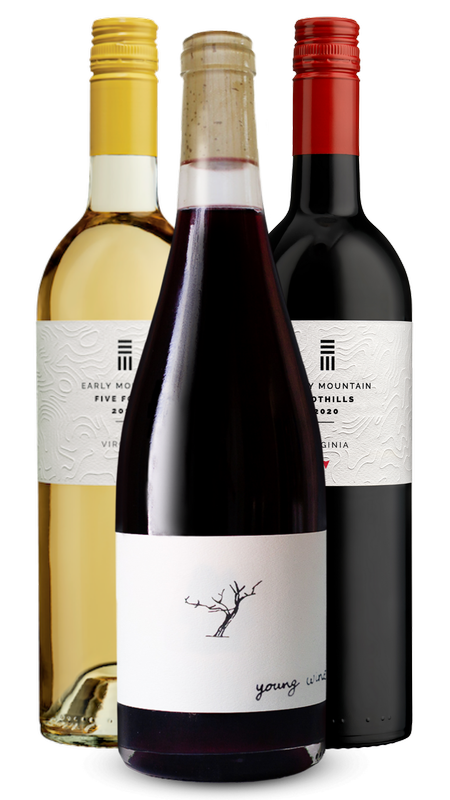 This fantastic trio has been selected for the UVA Peninsula Virtual Tasting on November 4th, 2021.
2020 Five Forks: With Petit Manseng in the lead, we feel the density of aroma and texture inherent to this grape. The aromatics flow from pear to peach to mango and are repeated as flavors in the palate, where the Sauvignon Blanc steps in with snappy green flavors, both herbs and piquant orchard fruit, and adds acid precision and a mineral finish. 2020 finds a way to embrace the textural nature of Petit Manseng while maintaining freshness of the Sauvignon blanc.
2020 Young Wine Red: While the goal of this project is wine that is joyous/casual/chill, the minimalist approach is actually one of the more challenging ways to make clean and delicious wines. Because of that, we source the grapes from the Shenandoah Valley, where cooler temps give us higher acidity that protects the grapes through fermentation and the wine during aging. We co-fermented Vidal blanc to bring some depth to the aromatic and flavor profiles, and we also did a portion of this white grape fermented on the skins, allowing us to blend a bit of structure into the tannin-light Chambourcin.
2020 Foothills: Cabernet Franc takes the lead, by a long shot, with Merlot, Cabernet and Petit Verdot in almost equal proportions providing complexity of flavor and tannin. Foothills continues to be a Bordeaux-ish blend, with PV being used at much higher percentages than in France. It is now five years running that we splash (okay, it's a big splash this year) in Petit Manseng to play with the aromatics and texture of the wine.
Shipping already included in this trio.