Taste of Spring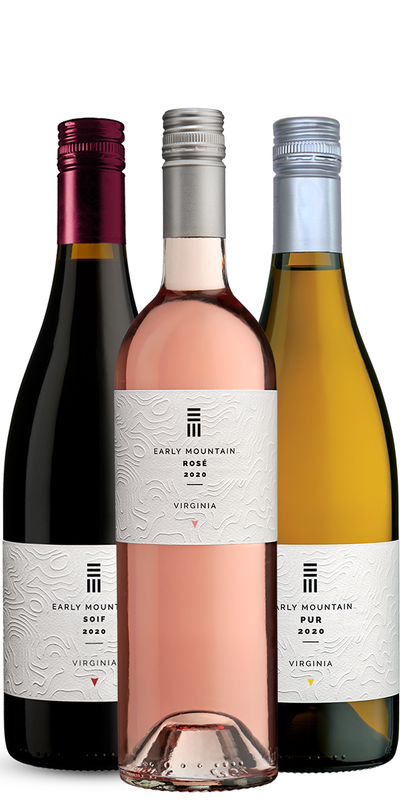 Contact Early Mountain at Cheers@earlymountain.com to set up a virtual tasting for your friend group or corporate team.
Early Mountain will lead a fun and interactive wine tasting and share stories about the exciting developments in Virginia wine country. Find out why Early Mountain has achieved national recognition for its wines, including its nomination as American Winery of the Year in 2019 (Wine Enthusiast) and Hot Wine Brand of 2020 (Wine Business Monthly).
We'll taste three wines together at this 45-60 minute tastings. Please plan to coordinate date and details two weeks in advance. We ship to: CA, CO, FL, GA, IL, ME, MD, MA, MI, MN, NY, NV, NC, OH, OR, PA, SC, TN, TX, VA, WA, DC
Taste of Spring Trio includes:
Rosé 2020: Fresh, energetic and pure dry Rosé.
Soif 2020: Juicy, fresh & fruit-driven red blend- loves to chill.
Pur 2020: Mild crisp and aromatic. A pure (aka unoaked) blend of Chardonnay, Viognier, and Pinot Gris.