Taste of Early Mountain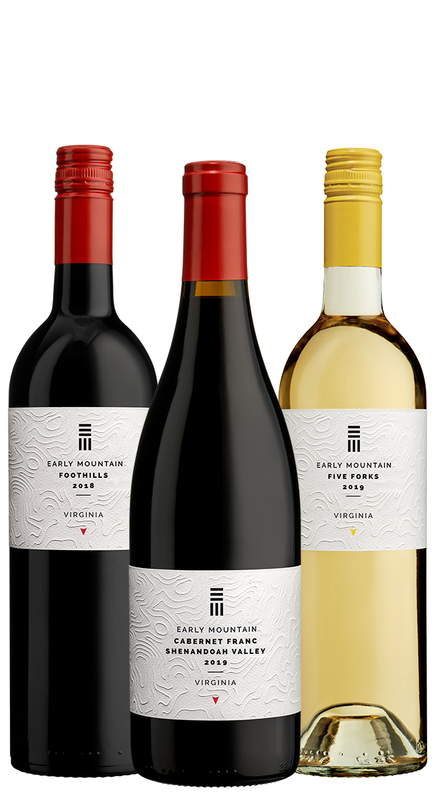 Contact Early Mountain at Cheers@earlymountain.com to set up a virtual tasting for your friend group or corporate team.
Early Mountain will lead a fun and interactive wine tasting and share stories about the exciting developments in Virginia wine country. Find out why Early Mountain has achieved national recognition for its wines, including its nomination as American Winery of the Year in 2019 (Wine Enthusiast) and Hot Wine Brand of 2020 (Wine Business Monthly).
We'll taste three wines together at this 45-60 minute tastings. Please plan to coordinate date and details two weeks in advance. We ship to: CA, CO, FL, GA, IL, ME, MD, MA, MI, MN, NY, NV, NC, OH, OR, PA, SC, TN, TX, VA, WA, DC
Tasting Trio includes:
Five Forks 2019: Petit Manseng & Sauvignon Blanc blend. Tropical fruit, zesty and rich.
Shenandoah Valley Cabernet Franc 2019: Combination of 2 high altitude vineyards in the Valley. Aromatic, red fruited and layered.
Foothills 2019: Fresh & fruit-driven red blend, our most popular red. So versatile!