Young Wine Trio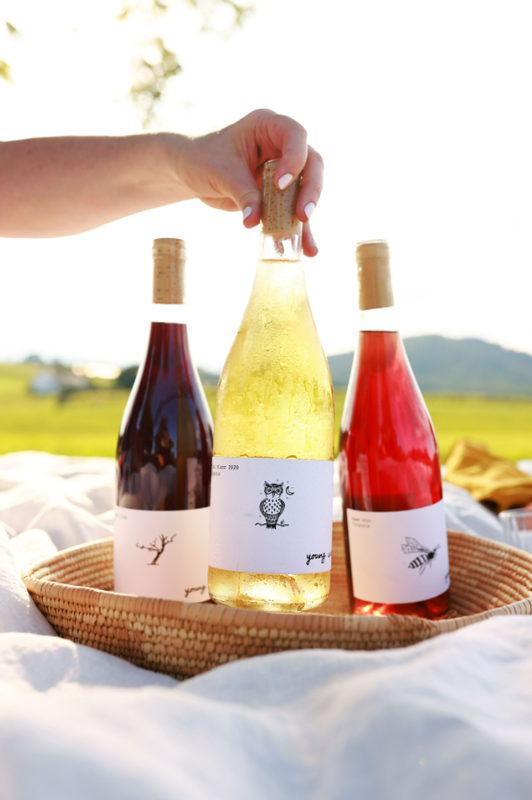 Young Wine Trio
2020 Young Red: Chambourcin is a grape that, if you try to make it taste like vinifera, will end up similar to jogging with a cat on a leash. You can do it, but it's going to be weird, some folks may disapprove, and it will get its revenge while you sleep (the cat will). Chambourcin's spirit animal is not a cat, but rather some theoretical "always puppy".
2020 Young White: It would be silly to over-describe a wine with a questionable owl on the label, but we should point out that this wine has texture and volume while retaining acidic structure, a result of full malo and long contact with active yeast. The aromatics are savory and preview the umami character that we find on the palate, with fresh stone fruit peeking through on the back end. The laters and depth of this Vidal are a subtle reflection of the natural technique in the cellar. But let's not take ourselves too seriously here … the owl just won't have it.
2020 Young Pink: This is our first pink young wine, and we take a different path to get where we're going. Working in that zone of red/white co-fermentation, we macerated whole berries of Chambourcin in direct pressed Vidal Blanc. The end result is deeper in color with a bit of creaminess supporting the fruit punch fun that is this wine. This wine smells of raspberries and cream but also bops around all the other red fruits we imagine we smell in wine, all feeling very fresh. The texture is juicy and rounder than most "white wine" styled rosés, but a bit of effervescence leftover from the fermentation keeps it lifted and clean.